[ad_1]

The mother of rugby union player Levi Davies made an emotional appearance on Wednesday's edition of Good Morning Britain to appeal for information about her missing son.
Levy – who many may recognize from the 2019 series of The X Factor Celebrity – has been missing since October last year.
He was last seen leaving Mumbai The old Irish pub on La Rambla, Barcelona, ​​arrived in Spain from Ibiza the day before.
During Wednesday's GMB, Julie Davis, Levi's mother, told Susanna Reid: "Before he left, there was a message — I don't know, maybe it was powers from above — that said to me, 'Hug him because you just don Ho 'don't know if this will be your last chance'."
Arriving at the desk to comfort her guest, Susanna explained that GMB reporter Nick Dixon had recently been in Barcelona, ​​and had seen "so much effort being made to find Levi".
"The police are on it, we've seen signs around on lampposts, podcasts," the presenter continued.
Julie also spoke about the difficulties caused by her son's disappearance abroad.
"I've had a lot of support from family and friends, and of course the private investigator is working very hard," she explained through tears. "And the Spanish police have also done their job.
"But where it has become quite difficult is the information not coming in because, of course, there is the language barrier and it has to go through the British consulate … the response to news or updates is very, very slow."
"Julie, we're all with you," Susanna said at the end of the interview. "We will keep this going and our hearts are sincerely with you. Lots of love."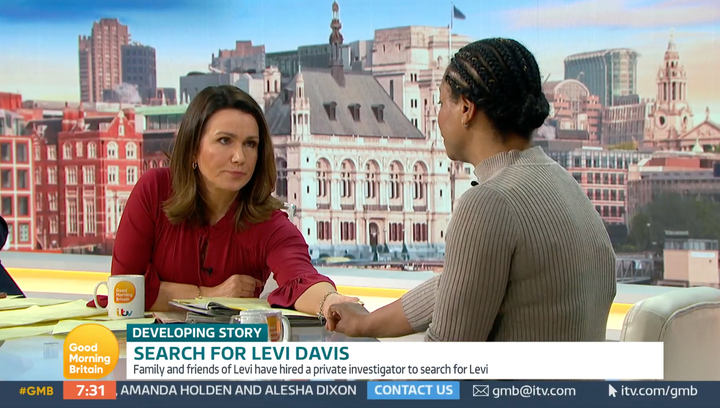 At the end of the interview, GMB took an advertising break, and when the show returned, guest anchor Ed Bowles was seen presenting the single.
He explained: "Susannah is hanging out with our last guest, Julie."
Following the segment, a post was sent to the official Good Morning Britain Twitter page, which read: "The family is appealing for anyone with information regarding Levi's whereabouts to come forward. Call 08001939333."
(tags to translate) Good Morning Britain

[ad_2]

Source link