[ad_1]

NHS workers are heavily attacked by patients suffering from health conditions, a recent survey has found.
A survey by YouGov found that three out of five patients call back striking healthcare workers.
They also found that a majority of parents support teachers taking strike action.
Voting on 16-19 December 2022 found:

More than three in five (61%) support striking NHS workers diagnosed with a health condition.
Most parents (53%) support striking teachers.
It comes amid strike action up and down the UK, including by nurses, ambulance workers, paramedics and physiotherapists.
On top of this many other sectors are on strike or are planning to take industrial action.
The Trade Union Congress (TUC), which represents the majority of trade unions, conducted the vote.
He said the results show that patients and parents see the government's "divide and rule" strategy.
The TUC says nurses have lost £42,000 in real earnings since 2008 – the equivalent of £3,000 a year.
Meanwhile, midwives have lost £56,000, which equates to £4,000 a year, and paramedics have lost £56,000, which equates to £4,000 a year.
In the education sector, teachers and school leaders have lost about a quarter of their pay in real terms since 2010, according to separate analysis by unions.
A previous poll published in October showed that one in three public sector workers were actively considering leaving their jobs or had taken steps to do so.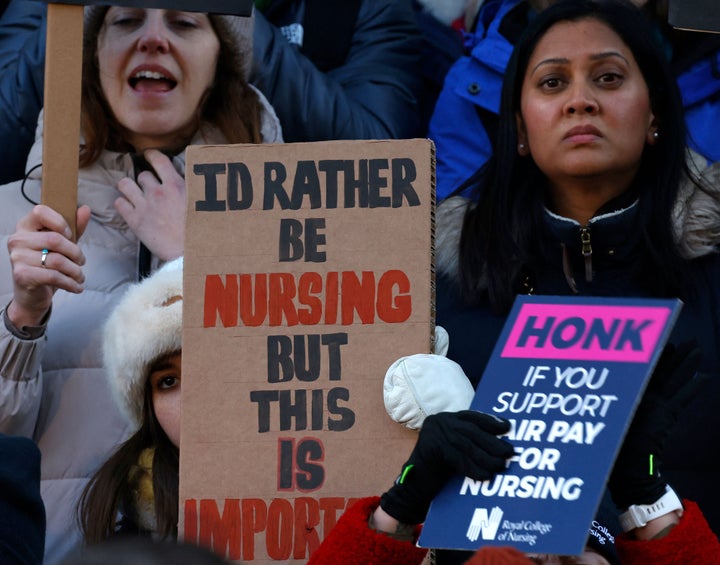 TUC general secretary Paul Novak Said: "Key workers from the public sector helped get the country through the pandemic.
"But now many people are being forced to take action to protect their standard of living because ministers are refusing to engage in meaningful dialogue with unions over public sector pay.
"This poll shows that patients and parents see right through this conservative government's divide and rule strategy.
"These are people who really rely on our public services – they know all too well the damage caused by pay cuts year after year.
"They are fed up with ministers obstructing negotiations – and they feel public sector workers are owed a fair increase in pay."
HuffPost UK has contacted the Department of Health for comment.
Health Secretary Steve Barclay said yesterday: "It is natural for patients to be concerned at the prospect of further strike action by nurses – nearly 30,000 elective procedures and outpatient appointments were canceled in the nurses' strike over the past two days. It is inevitable that industrial action will have an impact on patients.
"I have had constructive talks with the Royal College of Nursing and other unions about the 2023/24 pay process and look forward to continuing that dialogue."
(translated to tagged) pandemic

[ad_2]

Source link